Report: The Top Advertising Trends 2022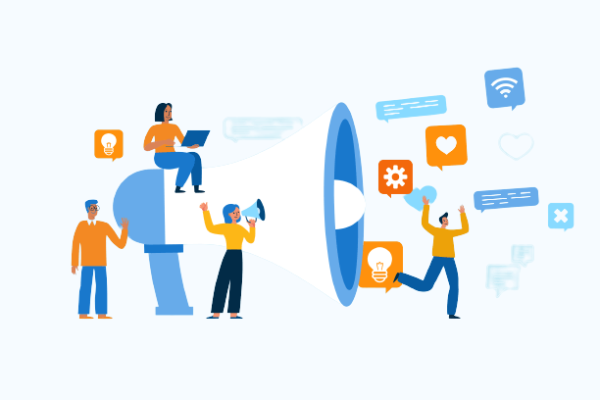 By
Eduardo Aznar
·
6 minute read
Smart advertisers are always looking ahead to not only make sure that they have an edge over their competition, but to help future-proof their strategies.
If you're wondering how to begin planning for the future, start with this report. We surveyed ad managers and experts about the biggest advertising trends in 2022, asking them about their predictions for the future and their advice on how to prepare for it.
The top advertising trends in 2022
The world of advertising is constantly evolving, and so advertisers themselves need to understand the trends driving this ever-changing landscape. After all, since your campaign performance is impacted by both sudden and gradual shifts in digital marketing initiatives, it's crucial that you keep up to date.
1. Strong focus on new tech like AI & Ml to optimize campaigns
2. Big investment in new ad channels like TikTok
3. Preparing well for new industry regulations
4. Fighting ad fraud to protect ROAS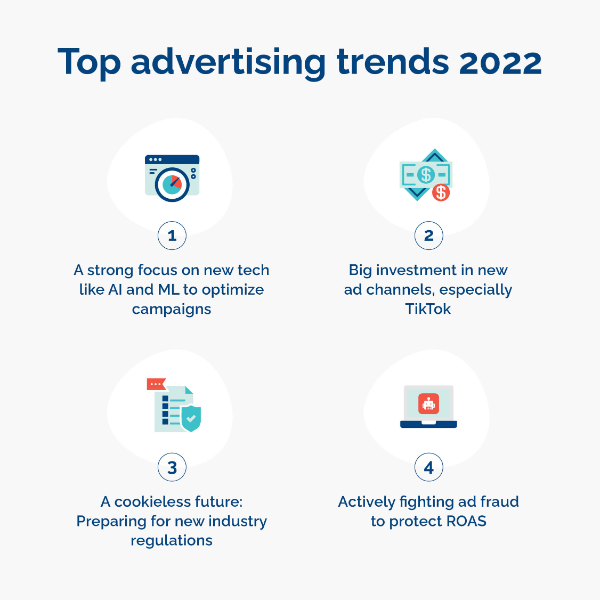 #1: A hyper-focus on new technology to optimize ad campaigns
Advertisers are keenly aware of the increased use of new technology -- such as Artificial Intelligence (AI) and Machine Learning (ML) -- to optimize advertising campaigns.
AI-powered advertising involves using historical data to inform future decision-making and enables advertisers to create more personalized and targeted ads, target the right audience with higher accuracy, and make more reliable decisions.
Here are just a few ways that AI is used to produce optimized ad campaigns:
Integration of AI into bidding strategies
As advertisers battle huge bidding markets for the best ad spaces and keywords, they're increasingly turning to automated, AI-based ad bidding and buying.
AI analyzes data to pull out factors and trends in the market, allowing advertisers to set up automated bidding strategies (which improves efficiency) and be better placed to meet their goals.
Automation and advanced segmentation methods
By analyzing data about users' demographics, interests, and browsing behavior, AI can identify user segments and placements that are highly likely to drive conversions. This helps advertisers improve their chances of their ads being seen by the right audience.
Plus, advertisers are using this high-level information to create and automate personalized marketing campaigns for each target group.
Detection and prevention of ad fraud
One theme throughout our survey was the need for advertisers to get better third-party audiences. However, the problem they are facing is how they can guarantee the validity and reliability of these third-party audiences.
Ad fraud presents huge obstacles for advertisers and marketers. Without anti-ad fraud technology, they can't be certain that their ads are reaching real users, nor can they rely on their campaign data to inform future decisions.
For this reason, the use of sophisticated anti-ad fraud technology is on the rise. The best of these solutions use machine learning engines to verify ad traffic and traffic attribution sources to separate real users from fraudsters attempting to make a quick buck.
Here's the bottom line: Advertisers are already using AI and other intelligent technologies powered by ML to produce optimized campaigns. If you haven't currently implemented AI or ML tools into your tech stack, it's time to start considering it.
#2: A noticeable shift to new advertising channels
When asked about which channels will become more important, advertisers were certain about several things:
Advertisers will make huge investments in TikTok advertising
The reasons for this are threefold:
TikTok has a rapidly growing user base and dominates the short-form video content market.
TikTok is the hotbed of new

audio and video trends

. And digital audio and video ad spending increased by almost 60% in 2021, reinforcing the notion that both of these strategies continue to have massive staying power across all demographics.
The

influencer marketing

industry itself is predicted to reach $16.4 billion in 2022

. Since TikTok is a pivotal channel for this, advertisers are keen to get their slice of the pie.
Gabriela Nascimento, marketing manager at OneCoWork, offered an interesting take on the importance of influencer marketing and segmentation:
"Brands should focus their efforts - independently of the format of the ad or content -on personalization and developing stronger brand voices. Ultimately, people trust people more than they trust brands, and this is why influencer marketing is evolving from being a trend to a normal marketing practice. However, "
nano-influencers
" are especially important if your brand needs to reach highly targeted audiences".
Advertisers will continue to make moves into Metaverse marketing
Consisting of Augmented Reality (AR) and Virtual Reality (VR), the Metaverse is predicted to provoke a radical shift in the world of advertising and the notion of brand presence. Knowing that Gen Zers are the most valuable targets for Metaverse advertising, advertisers are familiarizing themselves with the technologies involved in the platform.
Overall, even though advertisers' focus on channels is changing, one thing is for sure: they need to ensure that the ones they're using can support their goals, which often means using a variety of channels to target different target audiences.
Gabriela Nascimento agrees with this:
"For me, diversity is not a trend: it's imperative and non-negotiable. Diversity in the content of ads and within the creative teams developing them will ensure that brands are on the right path to connecting with the consumers of today and of the future".
#3: Preparations for new regulations affecting the advertising industry
Advertisers are also preparing to be able to meet their goals amidst changing regulations and new announcements affecting the industry, including:
Preparing for a cookieless future

: Over half of advertisers are prioritizing preparations for the cookieless future. They expect to focus on creating and using different solutions in the face of this monumental shift in the digital landscape -- these solutions could include context-based targeting, investments in first-party data, and building second-party data relationships.
Tracking adjustments on iOS

: This comes after Apple's latest announcement that it will expand ads to new areas of iPhones and iPads. Meanwhile, its App Tracking Transparency automatically opts out all users from ad tracking.
In light of this, Kristian Gosvig, an industry expert, believes that one top advertising trend is data reconciliation and modeling:
"Marketers are only as good as the data they can use. The quality of ad data has been declining in the last few years due to privacy concerns and the escalating war between ad platforms.
While free analytics alternatives are somewhat capable of dealing with the new reality of ad tech, they require a lot more setup work than what businesses have been used to -- just to maintain the level of insights they're already receiving as of right now. If they would want to improve the data quality, every business online will essentially have to start defining how they would like to see their marketing data and then model everything else accordingly".
#4: Fighting ad fraud as a means to protect return on ad spend
We also asked advertisers about how they plan on fighting ad fraud. Unfortunately, even though $120 billion dollars are lost to ad fraud every year, our survey showed that there is still a huge misconception surrounding this threat.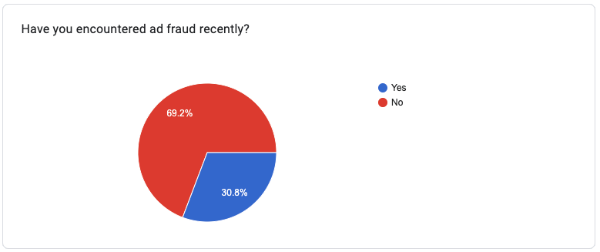 While ad fraud continues to affect all businesses, regardless of size, location, and industry, almost 7 out of 10 advertisers claimed that they haven't experienced ad fraud recently. However, the majority don't actually have solutions to ascertain whether they've experienced ad fraud or not.
Smart advertisers understand that preventing ad fraud is one of the best ways to boost return on ad spend (ROAS) since this will prevent budgets from being wasted on impressions, clicks, and leads that won't result in any sales. In fact, our data shows that sophisticated ad fraud prevention actually boosts ROAS by 11% and reduces customer acquisition costs (CAC) by 9%.
Leading brands are constantly looking to get the maximum return on their investments. Lead generation plays a pivotal role, but savvy advertisers also make sure that they look at the bigger picture to add other multiplier effects as well. That's where "brandformance" comes in. As Cynthia Cepeda, Marketing/Brand Manager at Prestalo explains,
"At Prestalo, we are focused on creating strategies focused on "brandformance" to get ROI. That means we're optimizing our brand marketing spend by tying it to our core business KPIs".
Plus, preventing ad fraud ensures that you'll only be working with accurate data on which to base your ad optimizations. Eduardo Aznar, CEO at Opticks says:
"Advertisers will always care first and foremost about performance -- this is what they're hired to improve and what they get evaluated on. Leading experts are already applying the usual techniques to boost CTR and conversions and reduce cost per lead.
However, those that use data to guide their strategies to get an edge will increasingly turn to ad fraud prevention. It's still a relatively underestimated way of boosting ROAS, but the numbers don't lie. We've seen a huge uptick in advertisers reaching out to us, and those who have signed up have seen significant improvements in ROAS and CAC. As advertisers continuously look to gain a competitive advantage, ad fraud prevention is a hidden gem that boosts their performance".
What else can you discover in the 2022 Ad Fraud & Advertising Trends Report?
If you're eager to learn more about the top advertising trends, we conducted a full report on our findings, with deeper insights into advertisers' current strategies and future trend predictions.
Here's what else you can access by downloading the full 2022 ad fraud trends report:
How ad fraud affects all advertisers and their strategies -- no matter which channels they use.
Our recommendations for what advertisers must do to boost their advertising performance and why they must align their ROAS improvement strategies with their anti-ad fraud strategies.
The full range of questions we asked advertisers to answer alongside an analysis of their responses.
Click here to download the report and access the complete data and further insights.