How To Organize Your Ad Fraud Prevention Systems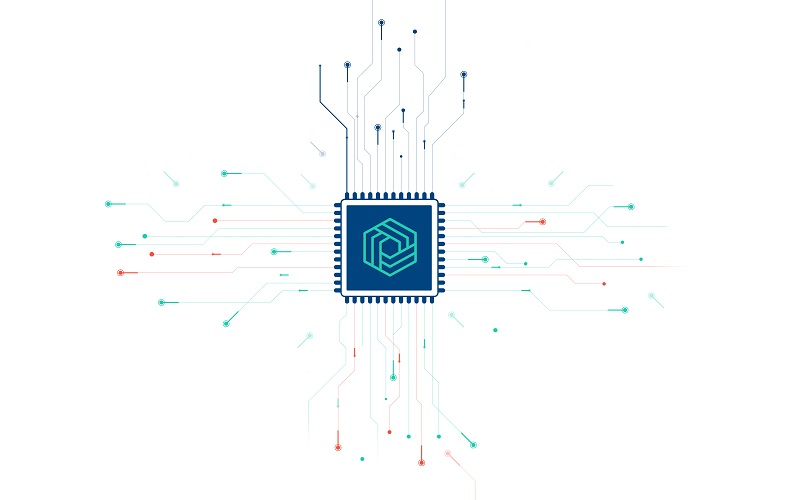 By
Eduardo Aznar
·
5 minute read
Fraud prevention doesn't start and end with an anti-fraud solution. In fact, optimizing your fraud prevention processes involves aligning people across teams -- namely your fraud committee -- and many siloed systems so that they can work together as a complete ecosystem.
Here, we explore what tools and solutions are considered part of the fraud prevention process and how they can work in harmony to prevent fraud from damaging your organization and help you achieve your acquisition, growth, and revenue targets.
What do typical fraud prevention systems look like?
Fraud prevention systems are often thought of as one singular solution, such as an anti-fraud SaaS tool, that can be plugged in to immediately fix all fraud problems. In reality, while fraud prevention tools are the key tools in fraud prevention systems, their success also depends on an entire ecosystem of interconnected software solutions. These solutions must work together to enable effective fraud prevention and protect organizations from the impact of fraud.
Other marketing tools which act as input or output to the process include Content Management Systems (CMS), Customer Relationship Management (CRM) platforms, and analytics solutions that gather important data that is valuable to fraud detection efforts.
Which systems collaborate to prevent ad fraud?
Let's take a further look into the specific systems within the fraud prevention ecosystem, what each system does, and how they are critical to the fraud prevention process.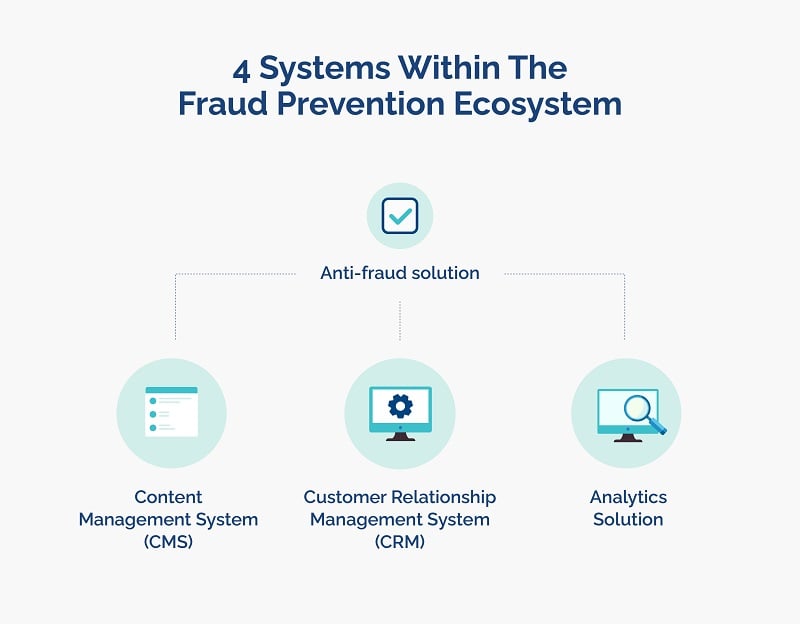 Specialized ad fraud prevention solution
Ad fraud prevention solutions are tools designed especially to identify and prevent ad fraud before it happens. Since they can block and track the most sophisticated types of ad fraud in real-time, an anti-fraud solution that allows you to identify and prevent digital fraud is the number one tool you'll need.
Far from just blocking invalid clicks or leads, anti-fraud solutions help advertisers optimize their campaigns, increase conversions, and protect their budgets.
Examples of anti-fraud solutions used in fraud prevention systems:
Content Management Systems
Content management systems are used to create blog articles, landing pages, and registration forms for leads. Often, advertisers will use third-party solutions for specialized form builders to collect user/lead information.
Since these systems and their third-party counterparts collect data on how specific content or pages are performing, they are useful in providing early fraud proxies. However, these systems also collect early "vanity" metrics that are unreliable without an in-depth consideration of early indicators of fraud.
Examples of CMS solutions used in fraud prevention systems:
Complete CMS solutions: Hubspot CMS, WordPress, Webflow, Sitecore, and Drupal.
Landing page builders: Unbounce, Leadpages, Instapage, GetResponse, and Ucraft.
Specialized form builders: Typeform, Arengu, and SurveySparrow.
Customer Relationship Management solutions
Customer relationship management solutions gather data on prospects and their interactions, as well as on user engagement patterns. This can be used to gauge the level of fraud present, especially the later signs of fraud such as the percentage of closing leads by campaign or partner.
Examples of CRM solutions used in fraud prevention systems:
Analytics software
Analytics solutions measure the true performance, engagement, and flow of web traffic in real time. They also collect detailed real-time web traffic and app usage data, which can be used as early fraud proxies.
Examples of analytics solutions used in fraud prevention systems:
How can you ensure that all of your fraud prevention systems work in harmony?
The key to a holistic and successful fraud prevention system is making sure all systems are organized in such a way that they can work together efficiently. To do this, you'll need four things:
An anti-fraud solution
Good communication between different teams on the committee
Good communication between the tools and systems
It's important to remember that the central part of any fraud prevention system is the anti-fraud solution. To illustrate, we'll explore three scenarios that demonstrate how everything can work together and contribute to your holistic fraud prevention system, how to facilitate communication within your ad fraud committee, and how to enable communication between each solution.
Scenario 1: Fraud investigation
Your ad fraud solution is your go-to tool for investigating possible fraud cases based on data from other tools or feedback from team members.
For example, if your paid media specialist discovers an unusual spike in traffic from a particular traffic source via Google Analytics and is unable to explain the cause, this would trigger your team to review this specific event within your anti-fraud solution.
Once the team has reviewed the event:
If the event was not fraud, no further action is needed -- unless they would like to investigate other potential causes for the spike in traffic.
If it was fraudulent, they would all need to review their data points to ensure they have not and will not make decisions based on skewed data.
Scenario 2: Automatic fraud detection and alerts
In this scenario, you choose to configure your fraud prevention solution so that instead of automatically blocking all detected fraud, you are sent alerts about specific types of fraudulent activity so that you can review it manually. This is done to review each instance on a case-by-case basis to avoid blocking legitimate users.
Based on your manual checks, there are then two possible scenarios:
You deem that the traffic is not fraudulent. In this case, there is no need for further communication with the committee or any other system.
You deem that the traffic is fraudulent. In this case, you need to update your committee about your findings so that they can ensure that their data-based decisions are accurate.
Scenario 3: Automatic fraud prevention
Anti-ad fraud solutions like Opticks automatically prevent as much fraudulent traffic as possible. Since fraudulent traffic is prevented from happening in the first place, it doesn't get tracked by any of your other systems, meaning that the data they collect will already exclude this type of fraudulent traffic.
In this scenario, no further action is required in terms of communication between systems or teams.
Facilitating communication between teams
As these scenarios demonstrate, a large proportion of fraudulent traffic can be avoided using ad fraud prevention tools. However, an ad fraud committee and excellent communication are crucial to driving the right decisions when fraud is detected.
Therefore, the committee -- those who are responsible for overseeing fraud prevention -- should regularly check the systems. This should be done via a designated team which is the operational point of contact.
Facilitating communication between tools and systems
To ensure the maximum efficiency and effectiveness of ad fraud prevention systems, it's key that each system should "communicate" and integrate with one another. Most importantly, any ad fraud prevention solutions should be able to integrate simply within the current tech stack.
In this sense, a good anti-ad fraud solution, such as Opticks, can present data in your preferred format so that it can easily be integrated or uploaded into other tools more easily. For instance, if the ad fraud tool flags specific users as potential fraud, you can download a list containing this information in a format that works with your analysis tool so that this data can be included there.
Why an anti-ad fraud solution is key to fraud prevention
Although several important systems contribute to overall ad fraud prevention, specialized anti-ad fraud solutions are the cornerstone of the function as a whole.
Anti-fraud solutions don't only measure and provide unique ad fraud data. They can also automatically prevent ad fraud before it happens by blocking fraudulent traffic based on specific data, and help you delve deeper into investigating suspicious events and traffic to see how and why they occurred.
Since ad fraud solutions eliminate the need to perform manual data verification across all of your systems, you can streamline the entire fraud prevention process and also significantly reduce the workload of your team and facilitate the alignment of the fraud prevention committee.
To find out more about how the expert team at Opticks provides ad fraud prevention for organizations like yours, schedule a free demo now here.