Mobile Marketing in Africa: Everything Advertisers Need to Know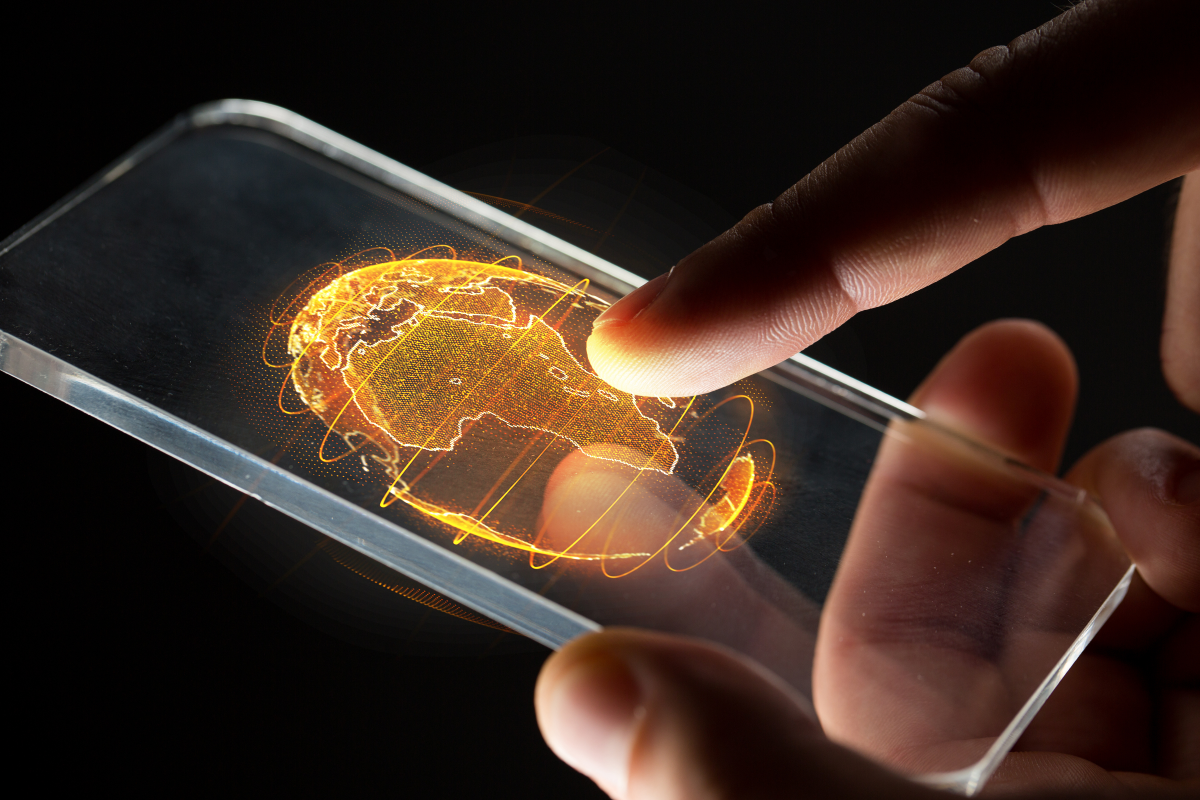 By
Eduardo Aznar
·
5 minute read
Across the entire continent, Africa is increasingly becoming a mobile-first region. When it comes to mobile marketing, Western markets such as Europe and the USA are now incredibly competitive. However, the exponential rise in mobile adoption across the African continent offers advertisers and marketers huge and untapped opportunities for success.
In fact, it's becoming increasingly clear that mobile marketing in Africa is a focus that advertisers can't afford to overlook.
In this article, we take a look at the mobile marketing and advertising landscape in Africa and the associated challenges, before finishing with a deep dive into mobile ad fraud throughout the continent.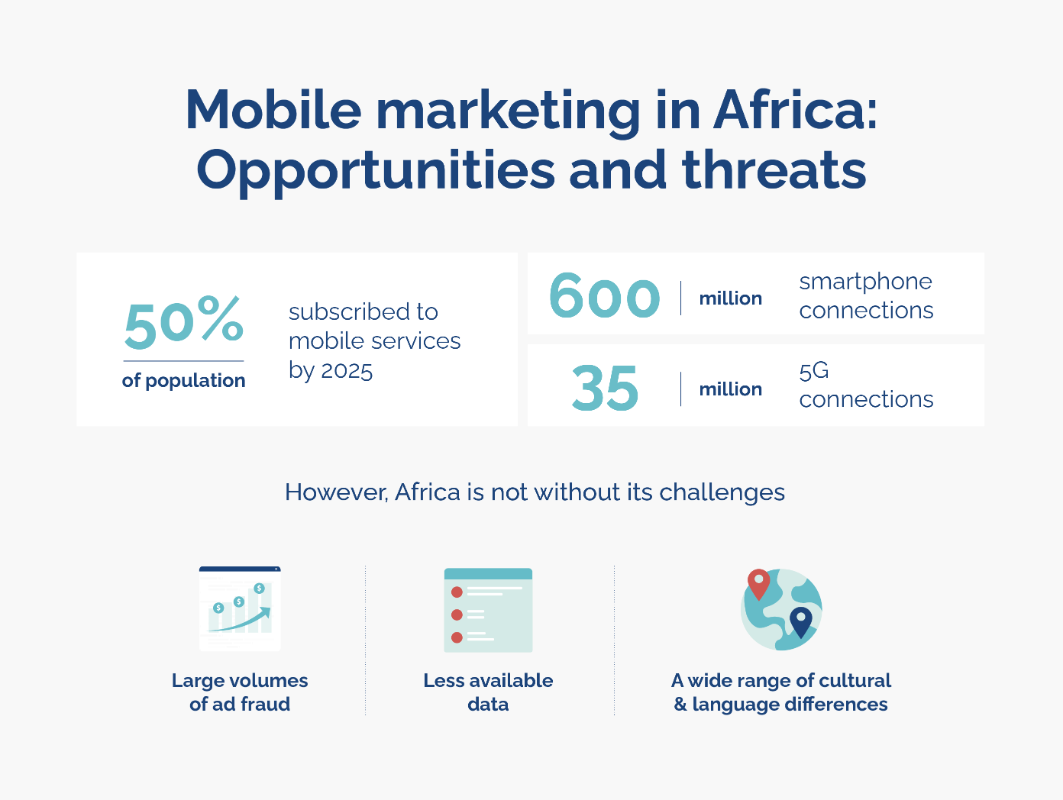 Mobile marketing in Africa: An overview
With a population of over 1.2 billion people living across 54 different countries, the mobile marketing landscape in Africa is incredibly unique and the environment highly fragmented.
However, Sub-Saharan Africa has the fastest-growing mobile market in the world, with the number of mobile internet users expected to reach 450 million by 2025, representing a huge potential for marketing efforts in the region.
Let's take a closer look at the context of mobile marketing in Africa.
The rate of mobile adoption breaks new ground
The rise of increasingly affordable mobile devices combined with flexible payment options has been a driving force behind the increase in mobile adoption rates in Africa. Coupled with the fact that Africa is the "youngest continent in the world" with a staggering 40% of the population under 15 years of age, the digital native generation is also fueling the growth of the mobile-first mindset across the continent.
A 2021 study by GSMA contained some fascinating insights into the future of mobile adoption in Africa:
By 2025, it's expected that 50% of the population will be subscribed to mobile services
An estimated 600 million smartphone connections will be made by 2023
35 million 5G connections will be made by 2025 (representing over 3% of total mobile connections)
The number of consumers using mobile internet continues to increase
Mobile adoption rates are accompanied by a rise in the number of consumers using the internet on the go. The same GSMA report predicts that while around a third of people in Sub-Saharan Africa are accessing mobile internet in 2022, this figure is set to rise to almost 40% by 2025.
Internet speeds continue to get faster
Although the spotlight is not yet fully on 5G connectivity, there is a large focus on expanding the capacity of 4G networks in Sub-Saharan Africa. Currently, more than half of the region's population can access a 4G connection. With this strong pivot to 4G networks, the growth in 3G is slowing down swiftly.
An increase in the use of apps, digital platforms, and e-commerce
Since the onset of the pandemic, there has been a marked increase in app downloads across many of Africa's largest regions. Notably, the most popular app categories to be downloaded have been in the food delivery, FinTech, EduTech, and entertainment categories.
A shift in consumer behavior throughout the pandemic has also contributed to a rise in the use of digital platforms for both learning and shopping services.
This transition also aligns with the industry view as a whole: Telecom operators have noticed a significant increase in demand for a broader range of digital services since the pandemic began.
Summary: What opportunities does the mobile marketing landscape in Africa present?
The current landscape, with its massive changes in consumer behavior, is making mobile marketing activities in Africa more attractive than ever before.
Advertisers and marketers have a huge opportunity to access millions of new mobile users in a mobile-dominant region, with the promise of better future connectivity, as well as a young, digital native population who access the internet via their mobile devices.
The challenges of mobile marketing in Africa
Just like every other region, Africa isn't without its fair share of challenges when it comes to mobile marketing activities. Let's explore the obstacles that advertisers and marketers need to be aware of.
Cultural and language differences
When evaluating mobile marketing efforts in Africa, it's impossible to consider it as one singular region. The continent's surface itself is three times larger than that of the US, with over 2,000 languages spoken throughout its 54 countries.
All of these countries have different levels of economic success, socio-political complexities, and multiple regional conflicts that organizations must seriously consider before investing resources into these geographies. In short, the regional differences across Africa are much starker than in the West.
The way consumers behave, speak, and their typical internet use will differ significantly based on where they live. As such, any ad campaigns need to be tailored to a much higher degree, which can become complicated without the necessary knowledge or experience in African regions.
There is less data and market research available
Compounding the points above, the fact that there is a general lack of data and market research from the African regions is another obstacle for advertisers and marketers. In fact, The Center for Global Development states that "The quality, availability, timeliness, and use of basic economic and demographic data to inform policy remains a significant challenge across Africa".
Without the necessary insights to run successful campaigns, organizations risk running unsuccessful and expensive campaigns.
User behavior is highly different compared to other regions
There are huge disparities in living standards across Africa which massively affects the differences in individuals' purchasing power and internet usage. In fact, despite the rise in mobile adoption, only 22% of the continent has access to the internet at all.
In terms of social media platforms, while Facebook has a large market share, platforms like Instagram, YouTube, and LinkedIn are neglectable. There are also a high number of social media platforms that are specific to Africa to take into consideration when planning campaigns. Device popularity is another factor to consider: Samsung devices are twice as popular as Apple devices.
On top of this, when we consider ad networks, Google only has an estimated 20-30% of total in-app inventory in markets like Nigeria, Ghana, Kenya, and South Africa. Meanwhile, companies like Smaato, Nexage, Mopub, Airpush, and Inneractive comprise the rest. This is something that could present challenges for advertisers outside the continent.
Africa is home to some of the largest volumes of ad fraud in the world
Just like many other regions across the globe, Africa has a huge ad fraud problem that poses challenges to advertisers and marketers everywhere. In the next section, we'll take a deeper dive into the prevalence of ad fraud in Africa.
Potential barriers to success: The high presence of ad fraud in Africa
Ad fraud is a global phenomenon. No continent, country, or region is free of the damage it causes. What's more, fraudsters are not limited by geographical boundaries. They continue to target advertisers sitting on the other side of the world.
While Europe is targeted by invalid traffic from data centers and virtual private server traffic, and Asia is ravaged by bad bots, the number of emerging markets in Africa coupled with increasing numbers of mobile penetration and less-established infrastructure makes it easier for ad fraud to occur and go unnoticed.
Additionally, fraudulent app publishers that can generate thousands of fake visits every day are a common source of ad fraud in Africa. In Nigeria and Ghana, these types of apps are creating fake bot traffic on an extraordinary scale. With the huge rise in mobile app downloads across Africa, this is an obstacle that both advertisers and marketers must be cautious of.
On top of this, non-compliant traffic (traffic that does not meet the specific criteria a campaign is targeting) is also the largest source of fraudulent traffic throughout the continent.
According to our data, Nigeria is the country most exposed to ad fraud in the world, with South Africa in fourth place. As shown in the table below, these two, together with Egypt, also round up the three African countries most affected by fraud.

Source: Opticks - The 2022 Annual Fraud Report
Additionally, Direct Carrier Billing offers telco carrier billing services to contract popular digital products (games, music, news, etc). This is very important in Africa since a large percentage of the population does not use banking systems, meaning they have no credit card to pay for these services. Instead, Direct Carrier Billing is the simplest option to pay for and consume products. However, Direct Carrier Billing can be associated with high volumes of fraudulent subscriptions. Clients are subscribed to these products without their consent via illegitimate advertising practices across the advertising value chain.
The mobile marketing landscape in Africa presents huge opportunities – but ad fraud isn't going away
The landscape for successful mobile marketing in Africa is ripe for advertisers and marketers. However, to get the optimum return on ad spend (ROAS), organizations need to be aware of the challenges in the continent, as well as the ever-present threat of ad fraud.
Understanding the mobile landscape in Africa will help your campaigns succeed. But, implementing a robust anti-ad fraud tool is the best way to prevent ad fraud from destroying your ad campaigns, budgets, and results, no matter where you roll out your ads.
To find out how you can protect your digital ads campaigns in Africa, download our free ad fraud prevention function guide, or contact Opticks today to discover how we can form part of your fraud prevention process.