Summary: Key Findings from the Opticks Annual 2020 Ad Fraud Report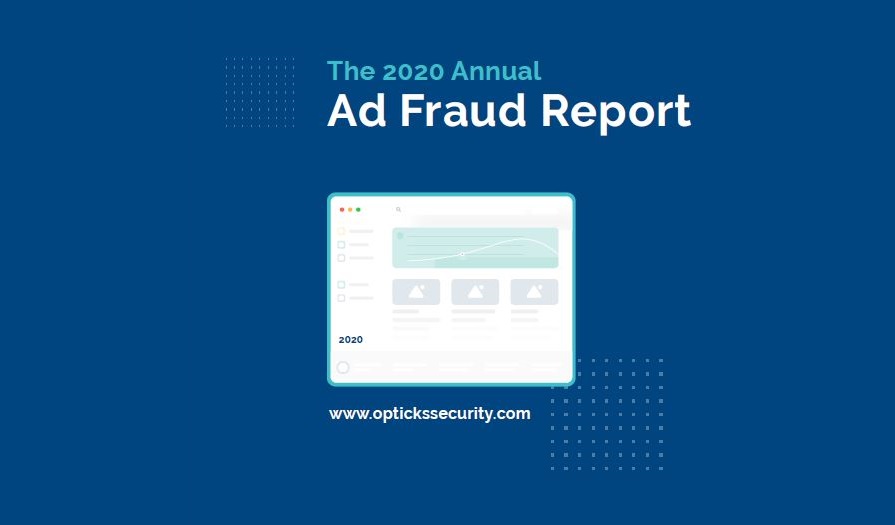 By
Eduardo Aznar
·
3 minute read
Last year at Opticks, we analyzed over 466 billion visits in over 200 different territories while protecting organizations from ad fraud. With such a huge wealth of data on our hands, we wanted to create a useful resource for stakeholders in the industry to help them better understand existing threats, and adequately protect themselves from future ad fraud.
While countless reports demonstrate ad fraud's multi-billion-dollar threat, we realized that there were no resources that illustrate just how pervasive ad fraud is on a truly granular level.
Ad fraud affects every vertical and every organization differently -- and it's likely you're being affected independently of where your business operates.
In our inaugural 2020 Annual Ad Fraud Report, we examined the effect of ad fraud on separate regions and analyzed how 22 countries are most impacted by different types of ad fraud. We also explored the prevalence of bad bots, malicious code injection, and non-compliant traffic in these countries.
Here, we take a look at some of the top-level findings from our 2020 Annual Ad Fraud Report.
The localization of ad fraud: Continent-level findings
Our findings support the theory that ad fraud is not a static threat that affects all regions in the same way, yet it does threaten organizations in all corners of the world.
Overall, we discovered that bad bots are the single most important threat across all regions. Non-compliant traffic -- which includes datacenter/VPN/other corporate traffic, iFrame traffic, and traffic derived from potentially unsafe environments life adult or dangerous apps -- is also a major global threat.
Here's a quick breakdown of each continent's susceptibility to ad fraud.
Europe
Non-compliant traffic is the number one ad fraud threat across the whole of Europe. However, the United Kingdom, Germany, and Ukraine specifically tend to suffer more from bad bot attacks and malicious code injection.
Since marketing is regulated on a more local basis in Europe, the region tends, as a whole, to be more protected against ad fraud. Despite this, fraudsters also target cost-per-action (CPA) campaigns in Europe due to higher payouts.
Top three countries exposed to ad fraud in Europe:
Switzerland

Netherlands

Germany
Asia (including Oceania)
Asia can be considered the ad fraud capital of the world. Not just that, but the region also appears to be home to the most varied range of ad fraud threats.
While non-compliant traffic appears to be the biggest threat across the region, places like Pakistan, India, and Iraq are particularly bad bot hotspots.
Click-farms, geo-masking, and fraudulent non-Playstore apps are just a few of the methods fraudsters are using across the region to carry out widespread attacks.
Top three countries exposed to ad fraud in Asia:
Thailand
Pakistan
Malaysia
Africa
Non-compliant traffic again forms the biggest ad fraud threat in Africa. Regions such as Algeria and Egypt, however, are more susceptible to bad bots and malicious code injection.
The high-rate growth of mobile penetration has opened the continent up to subscription fraud, botnets, while less strict fraud regulation across the region has also opened up more opportunities for fraudsters to commit attacks.
Top three countries exposed to ad fraud in Africa:
South Africa
Sudan
Tunisia
North and South America
As a whole, the Americas also fall victim to non-compliant traffic, while the United States is more susceptible to bad bots. Several South and Central American countries have recently welcomed new regulations to tackle subscription fraud.
Since the biggest VPN and data center companies are based in the United States, it's also the origin of a significant percentage of worldwide ad fraud.
Top three countries exposed to ad fraud in North and South America:
United States
Ecuador
Honduras
Special focus on mobile malware
Mobile malware is a clear vehicle of ad fraud. Once malware is installed in mobile devices, fraudsters can trigger massive amounts of traffic, clicks, or leads, and cause huge amounts of damage to both advertisers and agencies. The data we gathered also allowed us to create our own proprietary benchmark of mobile malware apps and packages.
The top five fraudulent Android Packages (APKs) we found were: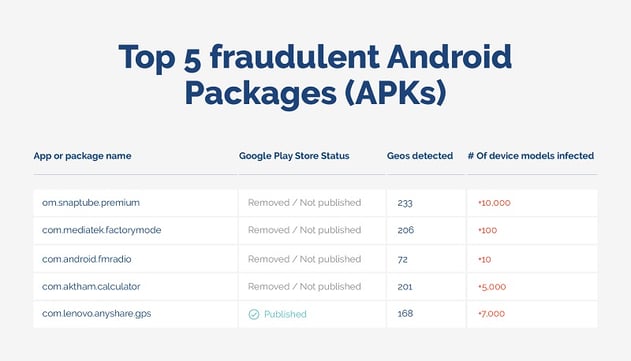 Our predictions for 2021
Despite the work of professional anti-fraud solutions in protecting organizations from ad fraud, we predict that levels of ad fraud will continue to grow in 2021 -- especially as many markets have shifted to a digital model since the beginning of the pandemic. We also believe that digital ad spend will continue to increase as a share of the marketing spend, making ad fraud even more lucrative for fraudsters.
Plus, digital businesses will need to prepare for Google's update to the rules governing third-party cookies, and changing standards to unique user identifiers -- all while still keeping a finger on the pulse of potential ad fraud attacks.
What else can you discover in the Opticks Annual 2020 Ad Fraud Report?
Here we've given you a brief overview of what you can find in our Annual Ad Fraud Report. However, here's what else you can learn in our full report:
Table of the top 25 countries exposed to ad fraud worldwide
Full breakdowns of country-specific ad fraud exposure across each continent
Our own proprietary benchmark of mobile malware apps and packages
In-depth browser-analysis of susceptibility to types of ad fraud
Further insights and predictions for 2021
Click here to download the report and access our complete data and further insights.