2022 Ad Fraud Report: Summary of Key Findings for Advertisers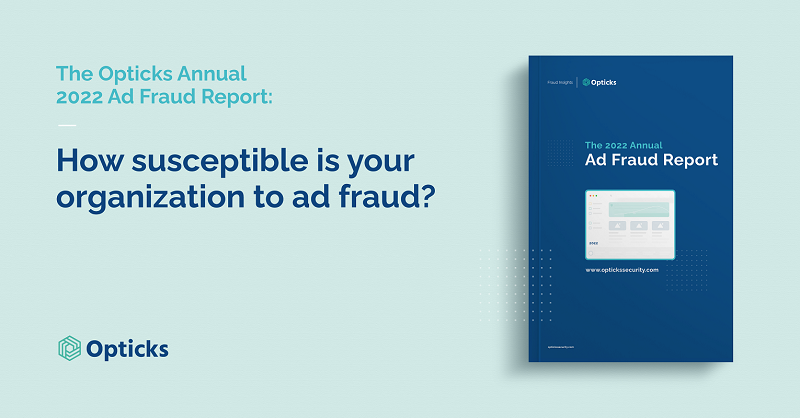 By
Eduardo Aznar
·
3 minute read
Globally, ad fraud will cost advertisers $81 billion in losses in 2022. This number alone demonstrates how the threat of ad fraud is bigger than it's ever been before.
Ad fraud schemes are becoming increasingly sophisticated and, no matter where in the world they operate, advertisers are suffering the consequences. In fact, our research shows that organizations without any fraud prevention systems or processes in place can expect reductions in return on ad spend (ROAS) of 11%, while simultaneously experiencing increases in customer acquisition costs (CAC) by 9%.
To start fighting ad fraud, organizations should keep a close eye on how it's carried out, the vulnerability of their marketing channels, and what the landscape of ad fraud looks like in their region.
In 2021, the expert team at Opticks analyzed over 223 billion advertising events across 245 territories. We've used this data to compile this year's ad fraud report: a resource for advertising stakeholders globally to help them better understand the true performance of their marketing actions and put the right solutions in place to protect themselves from the grips of ad fraud.
In this summary, we take a look at some of the top-level findings from our 2022 Annual Ad Fraud Report in a bite-sized format. Marketing and advertising stakeholders will learn how to evaluate the risks to their campaigns and how to protect their organizations from pervasive ad fraud.
The localization of ad fraud
Our data demonstrate that the threat of ad fraud is not linear across countries or continents. Depending on where they are located, regions suffer from vastly different ad fraud schemes.
Globally, the biggest threats are bad bots and non-compliant traffic (including datacenter/VPN/other corporate traffic, iFrame traffic, and traffic derived from potentially unsafe environments) and non-compliant traffic.
However, this year, the most revealing report data that can help marketers and advertisers optimize their fraud prevention strategies relates to the susceptibility of different marketing channels to ad fraud.
Ad fraud by advertising channel
While fraudsters target all types of advertising channels, our data shows that indirect affiliate, native, and programmatic marketing are the channels most susceptible to ad fraud.
Below, we present a breakdown of how ad fraud actors and techniques affect each of these channels differently.

Affiliate marketing
In this advertising channel, we observed fraudulent affiliates executing lead and attribution fraud by leveraging bots as well as datacenter and VPN traffic via sophisticated software.
By doing so, they're able to simulate real user behaviour (including clicks and filling out forms) and attribute sales to themselves. Indirect affiliate marketing – advertising via networks -- is particularly susceptible to fraud since advertisers have less control over the operations.
Programmatic
Fraudulent publishers are the main actors behind programmatic ad fraud and our shows that they use mechanisms like bots, ad stacking, and domain spoofing to perform it. This includes impression, click, lead, attribution, as well as install fraud.
Since it's difficult for advertisers to track automated campaigns, this type of fraud is hard to detect and prevent without the help of anti-ad fraud solutions.
Native advertising
This channel shows some similarities to programmatic fraud. It is also initiated by fraudulent publishers and their techniques include ad stacking, domain spoofing, as well as ads not rendered. Unfortunately, as our analysis shows, even though most native ad networks have implemented measures to detect fraudulent publishers, fraud is still prevalent.
This means advertisers must use due diligence when selecting publishers, and continuously monitor campaigns to make sure that only those driving legitimate traffic and leads form part of their network.
Final words and predictions for 2022
Preventing ad fraud is a holistic exercise. And if advertisers are serious about eliminating its risks, they need to both implement a professional anti-fraud solution and continually bolster and review their ad fraud prevention processes as a whole.
The surge in digital ad spend since the onset of the pandemic has been accompanied by an increase in the incidences of ad fraud, which means that advertisers need to be sharper than ever before when it comes to ad fraud prevention.
Not only will worldwide digital ad spending reach over $571 billion in 2022, but fraudsters have increasingly been exploiting connected TVs (CTVs) as a new vehicle for bot-based ad fraud, which will undoubtedly provoke an increase in calls for transparency and industry standardization. Lastly, Chief Marketing Officers will continue to face the challenge of preventing ad fraud since its presence increases CAC and reduces ROAS.
Despite all of this, regulatory bodies, advertising associations, and fraud prevention companies like Opticks will precipitate the visibility of and knowledge about the impact of ad fraud.
What else can you discover in the Opticks 2022 Ad Fraud Report?
Eager to discover deeper insights into the state of ad fraud? Here's what else you can learn in our full 2022 ad fraud report:
Table of the top 25 countries exposed to ad fraud worldwide -- including those that have changed since last year's report
Full breakdowns of country-specific ad fraud exposure across each continent
A review of ad fraud by advertising channel -- including how susceptible each channel is to fraud, the methods used to commit it, and who's behind it
An analysis of ad fraud by device type -- including mobile, desktop, and CTVs
Our own proprietary benchmark of fraudulent app publishers
Valuable resources and guides -- including definitions of invalid traffic types
Further industry insights and predictions for 2022
Click here to download the full report and access the complete data and further insights.